Full UK Vinyl Manufacturing – From either a correctly laid out CD or supplied Lacquers. We will manufacture 7", 10" & 12" Vinyl at either 33.3 or 45 rpm.
If supplied with a CD then we will master to lacquers.

Recommended Record Durations are:-

| | | |
| --- | --- | --- |
| Vinyl Size | @ 33.3rpm | @ 45rpm |
| 7" | 6'mins 50"seconds | 5' mins |
| 10" | 13'mins 37"seconds | 10'mins 5"seconds |
| 12" | 19'mins 20"seconds | 14'mins 20"seconds |
Vinyl Weights
| | |
| --- | --- |
| 7" Standard | 45g |
| 7" Heavy | N/A |
| 10 and 12" Standard | 159g |
| 10 and 12" Heavy | 180g |
We recommend always having a few Test Pressings prior to bulk manufacturing Vinyls purely to ensure you are totally happy with the cut. This is provided at a very minimal charge (£30.00 for 5 and includes delivery).
We are also able to offer a wide variety of coloured vinyl and effects so please ask.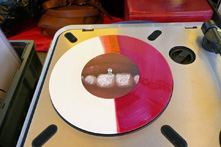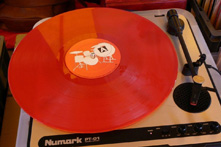 We are consistently one of the quickest companies in Europe offering Vinyl.
Test Pressings normally take about Three weeks and from their approval the main pressing takes a further Three weeks.
All works are processed as quickly as possible and clients are kept updated at key stages of production..